PowerWash USA
PowerWash USA offers three convenient car wash options. Each auto wash option will make your car clean and shiny, showing off the details of your ride. Give your Car, Truck or SUV a soapy, sudsy bath then protect it from the elements with an all over wax, top it off with a spot free rinse that really makes your car sparkle.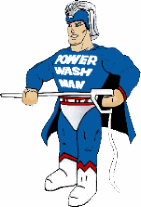 Tunnel Wash
Sit back and relax while we do what it takes to wash your car, truck or SUV so it will look its best.
Choose from 4 wash options that offer the following: Soft Foam Wash, Spot Free Rinse, Super Blow Dry, Side Blaster, Clear Coat Sealant, Under Body Wash, The Bubblizer, Triple Color Polish, Tire Scrub Brush, Tire Shiners, RainX.
Touchless Automatic Wash
Drive through touchless car wash with 4 washing options. An all over wash and polish with spot free rinse to make your car shine.
Self Serve Wash
A soft soapy brush scrubs your car clean while polish and a spot free rinse make it sparkle.
FUNDRAISING OPPORTUNITIES
If your organization is looking for a way to raise money, you can maximize your fundraising efforts with car washes using the Power Wash USA facility. Give us a call at 712-263-8855 to find out more about fundraising opportunities.