Power Wash USA
Power Wash USA offers three convenient car wash options. Each auto wash option will make your car clean and shiny, showing off the details of your ride. Give your Car, Truck or SUV a soapy, sudsy bath then protect it from the elements with an all over wax, top it off with a spot free rinse that really makes your car sparkle.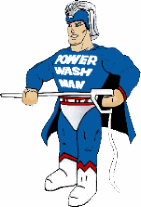 Tunnel Wash
Sit back and relax while we do what it takes to wash your car, truck or SUV so it will look its best.
Choose from 4 wash options that offer the following: Bubblizer, Presoak, Soft Foam Wash, High Pressure Rinse, Spot Free Rinse, Dryers, Foaminator, Undercarriage, Triple Foam Polish, Clear Coat Sealant, Tire Scrubber, Tire Shine, and Total Vehicle Protectant.
Touchless Automatic Wash
If your car is just a little dusty, extremely dirt, or somewhere in between, we have 4 wash options to fit your car wash needs!
For the cars with a light dust on them, our Basic wash with Presoak, 1 High Pressure Cycle and Spot Free Rinse would be perfect.
If you have an extremely dirty vehicle, we offer our Ultimate wash. It comes with Double Soap, 3 High Pressure Cycles, as well as a Protective Polish, Spot Free Rinse, and Dryers.
Self Serve Wash
For the person who loves to DIY! With an option for tires and bugs, as well as the presoak, high pressure soap, and the foam brush, you can get all the dirt and grime and yuck off your vehicle. Finish with the wax and spot free rinse to give your car, truck, or SUV that beautiful shine!
FUNDRAISING OPPORTUNITIES
If your organization is looking for a way to raise money, you can maximize your fundraising efforts with car washes using the Power Wash USA facility. Give us a call at 712-263-8855 to find out more about fundraising opportunities.